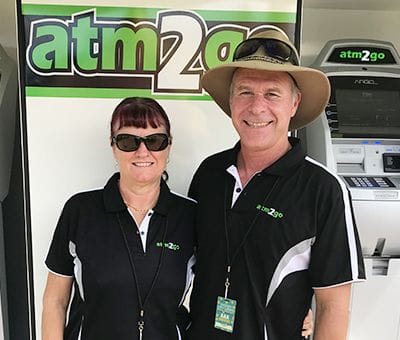 Our Inner South West Sydney franchisees, David and Lynne have been with ATM2GO since 2017. With years' of experience successfully running their own photography business, they already have a strong work ethic with a focus on exemplary customer service.
Providing the convenience of cash is no longer a "bells and whistle" add-on, it's an essential service. Even with a heavy reliance on EFTPOS cash still has its place at both events and businesses. We provide hassle-free ATMs for events and businesses with local personalised customer service and support.
A well known national brand, expert advice and support from a national network PLUS the reassurance that there's a constant supply of new ATMs and spare parts all combine to make David and Lynne the first choice for ATM solutions for event organisers and business owners in the Sutherland and inner south-west Sydney area.
I would happily recommend ATM2GO. Moocooboola Festival is a community event organised by Hunter's Hill Council and attracts up to 20,000 visitors throughout the day. I thought the customer service was amazing and the whole team at ATM2GO were a pleasure to deal with! - Esther Barra - Moocooboola Festival Co-ordinator
We would like to thank ATM2GO for coming to our open day event. The service and organisation prior to the event and the prompt delivery and collection of the service on the day was seamless. Having the ATMs at our event assisted our visitors to access money, which resulted in us being able to raise more money for our charities. Highly recommended and we will be using them next year as well! - Amanda Hamer - Fire Tennis