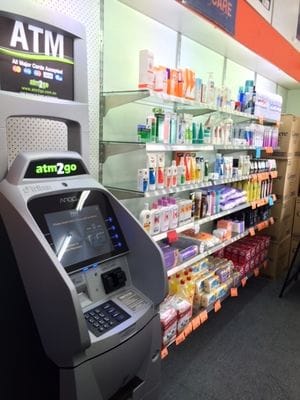 Retail ATMs for Businesses
If you are looking for a new provider to replace your existing ATM provider you're probably already well aware of the benefits that an ATM will add to your business. If you're after a supplier who is easy to deal with, has reliable machinery and who has a wealth of experience in managing and maintaining ATMs, you've come to the right place. Keep reading on through our site to help answer questions regarding our machinery and our experience, or click here to view our retail ATM brochure
If you're considering adding the convenience of cash to the patrons at your venue, here are the top reasons why your business will benefit:
Eliminate the time and expense of processing EFTPOS tranasctions. It's much quicker to process a cash transaction and there's no fee to pay for the privilege of your patrons spending money with you. Tap and Go is the silent killer for a number of businesses as these transactions are processed as credit card transactions, which increases the processing cost. Dig out your last EFTPOS statement and find out the real cost of providing this service to your patrons!
In addition to eliminating your EFTPOS fees we pay you for providing this great service to your patrons in the form of a rebate for successful transactions. You'll save money and make money!
Your customers receive a receipt with their ATM transaction so there's no disputing what money patrons requested and received. Unsuccessful transactions due to wrong pin or insufficient funds can't be argued as it's printed on their receipt.
Plenty of people still like using cash. They want to take out x amount of dollars and know what they have to spend.
Increase your foot traffic - people will come into a store just to use an ATM, especially at night. Using an ATM in a store club or pub - in a safe environment - is a preferred option for many people instead of using a through the wall machine where they are exposed to other people walking past.