Fixed Retail ATM FAQs
How safe is an ATM at my venue? Does it make me a target?
Most footage you see of someone breaking into any sort of venue is a smash and grab. The thieves come in quickly take what they can and leave. The ATM is not an easy target - the till and cigarettes are a far easier target. We recommend that you remove the cash cassettes from your ATM overnight and leave the ATM open. If someone is looking through the windows into your venue and sees an ATM that is turned off and the door open they'll keep going.
How do I get the money back that is dispensed from the ATM?
If you have an EFTPOS machine you would be familiar with receiving a day close for your machine and then receiving the funds in your account the next business day. It is the same with the ATM. The day closes at 3pm and the cash is back into your account the next business day. You also receive a report at the beginning of each day which gives you details of the number of transactions for the previous day and the cash dispensed. You then use this report to ensure that the correct amount of money is deposited into your account.
In a lot of cases, merchants find that they let the ATM do the banking for them. Cash comes over the counter one day, goes into the ATM the next day and is in their bank account the following day. It saves the daily trips to the bank. Most of our machines have dual cassettes and will dispense both $50 and $20 notes making it easier for you to fund the machine with the cash you have available.
Are you a member of the ATMIA (ATM Industry Association)?
We sure are! The ATMIA is responsible for disseminating information to ATM deployers regarding compliant machinery, forthcoming changes to the industry and changes to card systems. Staying on top of changes is paramount to ensure we are up to date with current ATM industry rules and regulations.
ATM2GO makes it a priority to attends the annual ATMIA Conference in the US and the bi-annual conference in Australia.
Are your ATMs EMV compliant?
EMV (which stands for Europay, MasterCard and Visa) is the global standard for credit and debit cards that use computer chips to authenticate transactions. EMV cards in Australia have both the chip and magnetic stripe. EMV-compliant ATMs use the chip data to authorise transactions which provides greater security against counterfeit cards. Because it reduces the reliance on magnetic strip transactions, EMV compliance also greatly reduces card skimming.
If the ATM owner has upgraded their machine to be EMV compliant and a magnetic stripe card has been used for an unauthorised transaction, the liability goes to the issuer of that card which is the credit union or the bank, so they have to reimburse their client.
If the ATM owner hasn't upgraded their ATM, and there is a fraudulent card transaction, the liability falls on the ATM owner. Which means the owner of the ATM has to reimburse the card holder. (If you are an in agreement with another provider just make sure if you are filling the machine that they haven't passed the liability onto you.)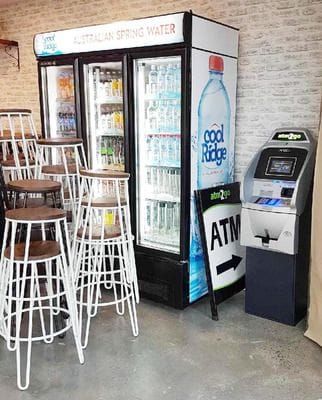 Are you a single operator? Do you have any back up?
Being a single operator isn't uncommon in the ATM industry and it isn't necessarily a bad business model when everything runs smoothly but let's face it, things don't always have a habit of running smoothly all of the time.
While our franchisees are all individual businesses who manage their own business to business relationships, you can rest assured that if your local contact can not take your call for whatever reason, you have the back up and support available from our Head Office team 7 days a week.
We are here to help whether you need bank account details changed, an email address updated, receipt paper, assisting you with a technical issue or speaking directly with your patrons if they have an issue with the ATM. Our head office team includes our qualified technicians who have more than 40 years experience combined in the ATM industry!
Let's not think the large deployers are any better than a small deployer without a back up plan! Some of them outsource the maintenance of their ATMs and there is no guarantee that you will get a qualified technician to service your machine. And try calling them to solve an issue after hours - chances are your call will not be answered in Australia and from the feedback we hear you best be prepared for a wait.
Are you Australian owned and operated?
We sure are! ATM2GO was one of the first event ATM providers in Australia and is also the only franchised ATM business in Australia. We are not a faceless multi-national; we are a group of local small business owners throughout the country.
Our franchisees use and maintain their own ATMs. This not only keeps their machinery in top condition but also makes them extremely knowledgeable when it comes to assisting you with the detailed information you need when you are considering adding an ATM to your business.
Not only are we Australian owned and operated our franchisees are locally owned and operated!