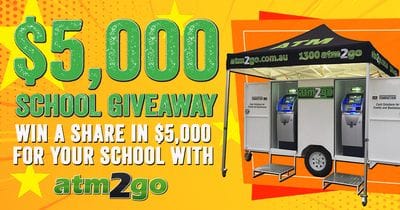 Win a share in $5,000 for your school with our $5,000 School Giveaway!
We are the ATM experts, no matter whether it's a Mobile ATM for an event a Retail ATM for your busy club or take away store. Very few existing ATM deployers can say that the owners of their business have more than 25 years' combined experience in the industry - but we can!
We provide high quality Triton Argo ATMs that not only look great but are also very reliable, and compared to other leading ATMs, have the least amount of down time. Our reliable machinery is backed up by outstanding service and support, which is provided within our successful ATM Franchise System.
To find out more reasons to choose ATM2GO, please visit our "Why Choose Us" page.