Event ATMs

We supply ATMs to your event either on a trailer or as stand alone unit depending on the size of your event and your requirements.
With the growth of the event ATM industry, there is an expectation from patrons that they will be able to access their cash at any event small or large. Like providing toilets, providing cash is now considered another essential service to ensure the success of any size event.
If you eliminate the issue of your patrons chasing down cash, you will increase the success of your event.
Events benefit by having patrons cashed up by:
Reducing queues and frustration - it's faster to process a cash transaction than to process EFTPOS or credit card transactions. Change your bar and merchandising stalls to cash only and reduce the time it takes to service your patrons.
Patrons tend to spend more money when they have cash.
People still like to take out a certain amount of cash so they know how much money they have to spend, rather than risk going over their budget by using PayPass or EFTPOS.
EFTPOS costs you money to process. If you're running the bar, merchandising or a food stall, eliminate this cost and stick to cash transactions.
Many stall holders don't have facilities to take card payments. You will be keeping your best stall holders happy if you ensure that patrons have easy access to cash. Tell them you're having an ATM at the event and then watch them argue about who is going to be closest to the ATM! Successful stallholders will be lining up to get back to your event next year, and in turn great stall holders attract more customers!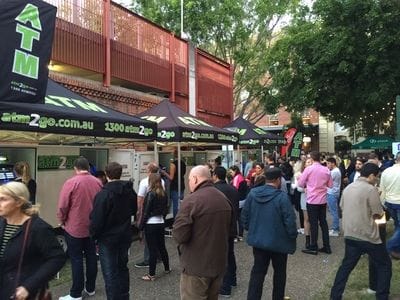 We attend all types of events including:
Music festivals of all types and sizes
Charity events
School Fetes
Netball, football and soccer carnivals
Markets of all different types
Expos from Sexpo to Pregnancy & Baby, Good Food & Wine, Caravan & Camping Shows - everything and anything!
Gem Festivals
Flower Shows
Camel Races
Hire Fee
The hire fee will depend on where your event is and how many people are attending. Complete the quick enquiry form with the details of your event and we will tailor a proposal for you.
For more information on how we can help your next event, please click on the applicable link below: