Thanks For The Support and Inspiration Val!
Written on the 30 September 2020
By ATM2GO Director Jenny Marsh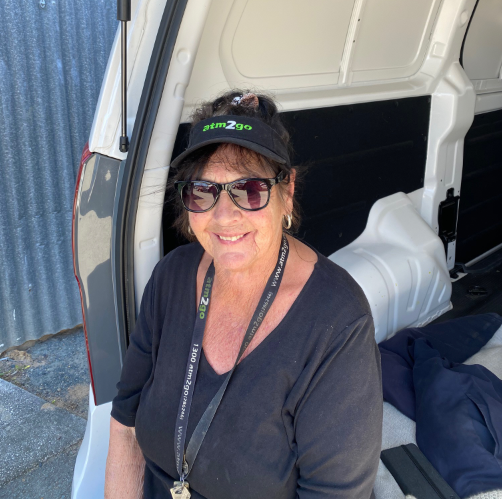 A massive shout out to all our supporters. Supporters come in all shapes and sizes but we are grateful to them all.
Close family and friends are our biggest supporters sending us positive vibes and pitching in when we need it. A shout out also goes to our existing clients that recommend us to other small business owners who are in need of an ATM we are very grateful and humbled when we receive a recommendation. And if you are one of the many people who simply share our social media posts, we are grateful to you too!
On the weekend I had the pleasure of catching up with one of our supporters, Val Riley.
Val is the mum of Steve who one of our franchisees based in Brisbane. I strolled into the Caboolture Markets mid morning to fix one of the ATMs on site (well I carried stuff, Andrew has the expertise to fix the machine!). Val had been on site since before 2am!
Steve set up the machines before he headed off for an early start at another market an hour up the road, he left Val at Caboolture to manage 3 machines.
Did I mention Val is 81!
We often meet people who truly inspire and amaze us and this woman is on top of my list.
Not a word of complaint in having to help out, in fact she loves it! The market community is like an extended family by the time she has a morning coffee catch up and helps sell newspapers the day is half done. It keeps her mind active and keeps her social.
When it's been such a challenging year and there's plenty we could complain about, hanging out with this legend is all I need for a bit of inspiration to get up, show up and never give up.