Keeping It Real!
Written on the 12 March 2021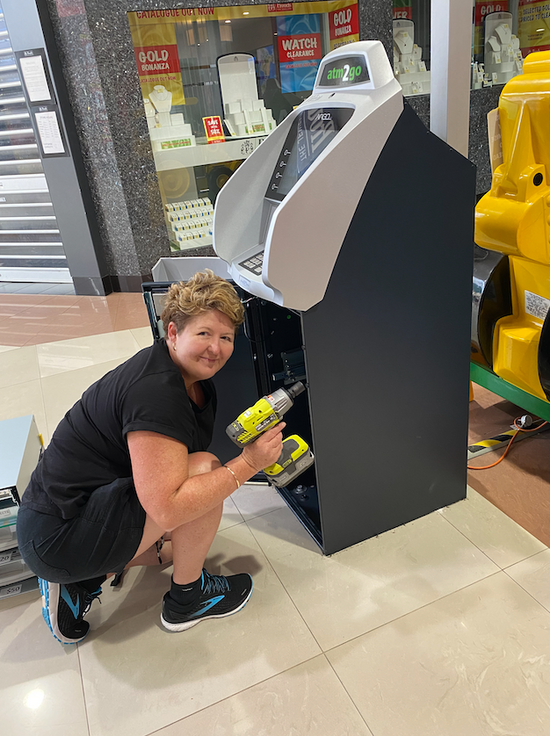 By ATM2GO Director Jenny Marsh
Sometimes I do have to swap the heels for the sandshoes and shorts and get my hands dirty!
With Andrew out of action for at least 8 weeks (due to a knee issue) and with some things just needing to be done in hurry, it turns out I was the best tech option today. (And you won't hear that too often.)
Fortunately, we have the right tools to make life pretty easy - good battery drills and a kick ass trolley that enables me to manoeuvre a heavy ATM.

This was just an ATM swap out which is much easier than a full install. The ATM on site at Booval had been in place for over 18 months, this ATM has paid itself off more than a couple of times and with an opportunity to put an ATM into a lower transacting "greenfield" site, a swap over was the best idea.

This older ATM will come back into the office for a good clean and test and be out the door next week to a regional pub in NSW.

With Covid drying up events until just very recently, setting up and managing events is something we haven't done in a while. I do enjoy doing events when we are called on to fill in for our local franchisees but I'll readily admit this was my first time behind the drill! It's much easier to talk to prospective franchisees and merchants when I take my turn in the trenches and speak from my own experience not just the experience of others in the network.

So today I'm grateful for the opportunity to keep it real, but I'll be slipping back into my heels on Monday!