Is it here yet? Is it here yet?
Written on the 29 June 2021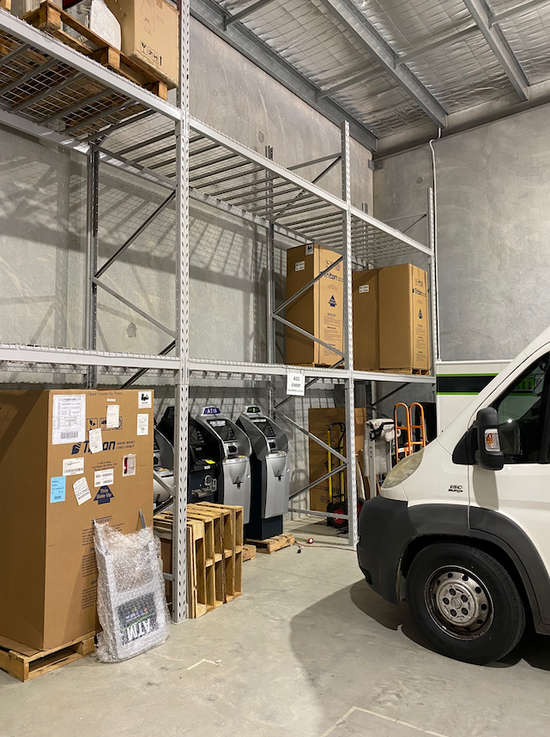 Written by ATM2GO Director Jenny Marsh
Our wonderful friends at Triton in Mississippi USA prepared and packed our container load of ATMs early May, and the guys from McHugh & Eastwood (Melbourne) have been working their magic to get the container to us ASAP.

But we find ourselves in the same boat as so many businesses at this time, which is getting containers on the water. Who'd have thought that with all the containers out there world-wide that we'd find ourselves struggling to simply get a shipping container.
Covid is truly the gift that just keeps on giving. When you think things are getting back to normal here in Australia, the reality of what's happening out there globally really hit home when it came time to organising freight.

After two months the good news is that the ship is close to Australian waters and we'll be stocking our shelves with new equipment again very soon.

This photo of our warehouse shows how sad the situation is with just one through the wall and three Argo 12s left on the shelf.

We have 26 units arriving next week which includes two more through the wall units, and a couple of Argo 15's. These are the first Argo 15's we have bought into the country so there's much excitement (yes we are a bit nerdy!) about their arrival.

Next week you'll see us donning the fluro vests and firing up the forklift to get these units out of the container, onto the wall and soon after, out the door to new homes.

If you know of somewhere in your local area that needs an ATM let us know!