Fete research finds mobile ATMs boost profits
Written on the 20 August 2018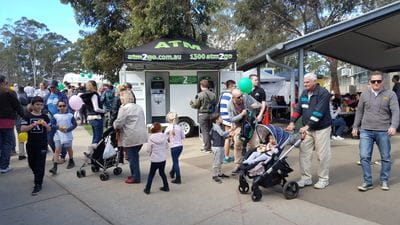 The results from the first-ever National Fete Research Project are in and they include some very important findings for school fete organisers.
Conducted by QUT's Australian Centre for Philanthropy and Non-Profit Studies, with support from the Fundraising Directory, the study surveyed 500 school fete conveners from private, state and faith-based schools throughout Australia.
The project found that there are five key factors that contribute to a successful fete with maximum profit. And number four is one we've been saying loud and proud for a very long time!
1. Start early a year out if possible, straight after the previous fete.
2. Use online signup for volunteers this will help with recruitment.
3. Prioritise safety - have someone responsible for Occupational Health and Safety matters.
4. Hire a portable ATM - more cash means more sales.
5. Have a wet weather plan - especially for the rides.
School fetes are often the major fundraiser for a school, so why would you not do everything in your power to maximise your fundraising efforts. When it comes to spending money people value freedom and choice. By providing an ATM at your school fete you are providing the convenience of cash to be spent at your event.
The study found that the average fete profit for a large school (more than 700 students) was $26,000 and for a smaller school (fewer than 300 students) it was $10,000. The largest profit reported by one school was a whopping $93,000!!!!
The report states that larger schools were more likely to offer an ATM or card payments than smaller schools. Similarly, 35% of independent/private schools and 34.7% of Catholic schools offered ATM facilities, compared to 27.5% of state/government schools.
Read the full report here
Click here to find out how ATM2GO can help maximise your event's fundraising efforts.