Celebrating 10 Years!
Written on the 8 April 2021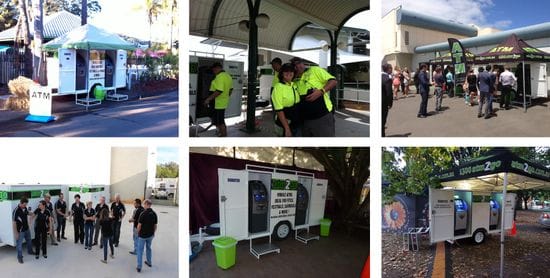 Written by ATM2GO Director Jenny Marsh
This month ATM2GO proudly celebrates 10 years.
What started out as a small side business attending school fetes in the couple of years prior to launching ATM2GO, grew much quicker than we could have ever expected once we branded our machines and got our first big break.
Our big break was attending Eumundi Markets on Easter Saturday in 2011. Last weekend was our 10th Easter Saturday at Eumundi Markets!
We truly treasure this relationship with the market. Not only our first weekly event, but due to the large number of people that attend week after week, the trailer and brand have benefited from exposure to countless people from all over the country (and the world!). No amount of paid advertising could have given us the benefit of this exposure.
Looking back, our early days required a lot of market education education to both event organisers and patrons. Whilst everyone was familiar with an ATM, an ATM on a trailer was a novelty and left many people starring at the trailer scratching their head and wondering how it worked. I'm not joking when I tell you that someone in the early days refused to use the ATM because they thought someone was sitting in the back of the trailer taking their card!
It didn't take long however for event organisers to realise how valuable this service was (an ATM in the middle of a school oval was not just a novelty it was incredibly practical) and with our fleet growing at a rapid rate giving us good brand exposure, we soon built trust with our patrons.
Our first day out (at Eumunid Markets) we baby sat the trailer all day like proud parents. When someone started taking pictures of our trailer, I sent Andrew in to deal with that! This gentleman ended up being our first franchisee.
Franchising was the obvious way to grow our business; were we ready for that after trading for half a day? Hell no! Thanks to teaming up with a great lawyer we did make this happen and we have learnt a lot along the way.
Franchising gave us the opportunity to share our business idea and knowledge with other people who wanted to share in the satisfaction of owning their own small business. It also meant that we could simultaneously attend a lot of events, dispensing a lot of cash, over a very large area. So glad we thought to franchise! (Actually thanks really goes to Paul for approaching us on that very first day.)
You'll now find ATM2GO branded machines all down the eastern seaboard of Australia from Hobart to Cairns.
You'll also find our machines in more convenience stores, pubs and other venues than there have ever been before. Whilst we took a hit last year with our event ATMs (all events came to a grinding halt on 15 March 2020), the enquiries for fixed machines have grown at an incredible rate over the last couple of months. This in part is due to so many bank ATMs being removed giving us opportunities we didn't have in the past.
Many millennials (and the media, and the big banks) will have you believe that we don't need cash, but I can assure you they don't speak for everyone they are just the loudest voices when it comes to the discussion. There's a quiet group amongst us that still want to use cash, we like holding our money, we like to know we won't overspend, we can only spend only what we have on us, we like putting a $20 note in a birthday card and we like the anonymity of cash transactions.
We have learnt a great deal in the last 10 years about franchising and business in general. Owing your own business is certainly having your future in your own hands after 10 years would we have it any other way? Not a chance! We are excited to see what the next 10 years has in store for us!
Finally a big thank you to our staff, to our franchisees, to our friends and family (who in one way or another always get dragged in to help out, especially in those early years).