Event ATM FAQs
We compete on service, not on rebates or hire fees.
We are often asked to price match competitors or to give our services away for nothing. All our franchisees are local businesses and without them running at a profit, they will not be here to service our clients year after year. All successful businesses need to be profitable and ours is no exception.
If you are offered a better hire fee we suggest that you do your due diligence on us and your better offer! Read all about us on our website and follow us on Facebook (it reads like our CV). If you would like the contact details of other event organisers to chat to about our services just let us know.
If you are comparing us to our competitors please do so fairly. Make sure they are providing the same high level of service, that they are using Australian compliant machinery, that they have reliable communications, that they can provide sufficient funds for your event and that they will turn up to your event when they say they will.
We are one of the very early providers of event ATMs, we are still around because we provide this valuable service at a consistently high standard.
Why would I want an ATM at my event?
Even back as far as the first event we attended we could see the benefit of having the ATM at a school fete. We had attended the fete for many years as parents and every year people would run out of money. Each year they would say that they were going down to the IGA (500 metres down the road) to get money and as many as 90% of those people that left with good intentions simply didn't come back.
Once they had left the event it was often too hard to come back. Either they had found somewhere else to eat, they had reconsidered their purchase or it's just simply too much effort to return.
Does it cost me anything to have an ATM at my event?
For small events, we have a hire fee. A small event is an event where there will be less than 8,000 people attending.
Our trailer hire fee is very reasonably priced at $455 and this covers our minimum costs to provide this service to your event which includes our weekend labour to deliver and pick up the ATMs at your event, insurance, communications, overseeing the ATMs for the duration of your event and the cost of providing cash.
Small events benefit greatly from having cash readily available for their patrons, however, rebates alone won't necessarily cover our overheads and make a profit. We are not shy about saying that we want to make a profit. All of our franchisees are small business owners. They have overheads like any other business and they need to be rewarded for their efforts. Not many people I know would turn up to work each day not to receive a pay cheque - this is just the same!
We prefer to think of an ATM as an investment for your event rather than an expense. If you consider that for your $455 investment you could get up to $10,000 (and normally a lot more) invested back into your event, you are already way ahead.
We do charge higher hire fees for those events that are not in a franchisee's territory and involve considerable travel or for multiple day events. In these cases, we need to cover our additional expenses to attend your event which includes time, fuel and accommodation. If your event will have more than 10,000 people attending and there is evidence of this number of people attending in the past, then we can negotiate our hire fee with you.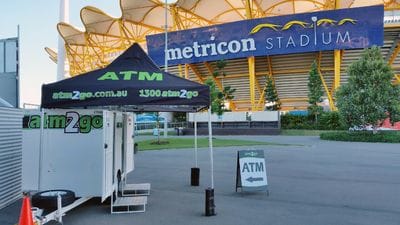 We are a not-for-profit event, will you waive your hire fee for us?
I'm afraid in most instances we won't waive our hire fee for not-for-profit associations. We still need to allocate equipment to your event that can then not be used elsewhere, plus our overheads don't change because it's a not-for-profit event.
Consider it an investment in making your event more successful and profitable. Without the ATM on-site, people may choose to leave or not spend as much money. If you make cash readily available you should see this reflected on your bottom line. Simply put, don't let people use the excuse of going to find cash to leave your event!
Who wears the risk of having the ATM at my event?
The ATM owner (in our case one of our franchisees) is responsible for the ATM at your event, for the equipment and for the cash.
Do you have your own public liability insurance?
We sure do! All franchisees have $20 million dollars public liability insurance.
Couldn't I just get a couple of "Squares" that I've seen at stationery shops to take money at our stalls?
Sure you can, but this is risky for the person using their card and risky for the person taking the cash.
All of our communications are via an encrypted modem making them very safe to use. A 'Square' uses unsecured comms in 'The Cloud'. Do you want your card details readily available in 'The Cloud'? The square is also attached to someone's phone - who's to say they don't have another app on the phone that is used to grab your card details. No, thank you!
For the person taking the money, it's just as risky. The majority of the transactions that you would make are normally 'offline' which means that it takes all the card details and doesn't get approval right away (the approval to say that that the patron has cash in their account). When it does get approval later in the day if your customer didn't actually have the cash in their account you wear the cost of that transaction. The same applies if someone uses a fraudulent card - you can tap and go on a card up to $100 at a time. A stolen card can do a lot of damage in a short amount of time.
The feedback we have had from stallholders that have used the Square is that's it's not the ideal solution. Do your due diligence before you go down this path and speak to other seasoned market stall holders (or better still organise an ATM!!!
EFTPOS machines do not hold the same risk and use the same secure technology as an ATM. It's just the cost of the transactions that the stallholder normally has to wear as well as the time involved in processing the transaction. Cash transactions are quicker to process!
Are you a single operator? Do you have any backup?
While all of our franchisees are individual business owners, they work as part of a team.
Being a single operator isn't necessarily a bad business model when everything runs smoothly but let's face it, things don't always have a habit of running smoothly all of the time. Our network of franchisees is supported not only by each other but also by our Head Office team seven days a week. Our franchisees work together to make sure we cover as many events as possible and to provide additional equipment if anything unexpected arises.
Our team at Head Office includes our qualified technicians who provide the guidance required when something more complicated than a cash jam stops the cash at your event!
"The strength of the team is each individual member. The strength of each member is the team. - Phil Jackson
Are you a member of the ATMIA (ATM Industry Association)?
We sure are! The ATMIA is responsible for disseminating information to ATM deployers regarding compliant machinery, forthcoming changes to the industry and changes to card systems. Staying on top of changes is paramount to ensure we are up to date with current ATM industry rules and regulations.
ATM2GO makes it a priority to attends the annual ATMIA Conference in the US and the bi-annual conference in Australia.