ATM2GO Sunshine Coast North

(including Noosa, Hervey Bay & Bundaberg)
Cris and Tania have been managing event ATMs in the northern areas of the Sunshine Coast (including Noosa, Cooloola, Fraser Coast, Burnett and Wide Bay) since early 2013.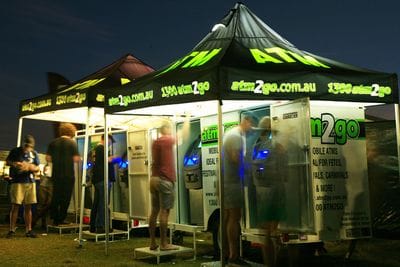 During that time they have regularly provided the convenience of cash to:
Noosa Show
Mary Poppins Festival
Whale Aid Concert
Bundaberg Show
Spirit of Bundaberg
Originals Music Festival
Hervey Bay Seafood Festival
Tin Can Bay Seafood Festival
Noosa Jazz Festival
Mitchell Creek Blues Fest
Childers Festival
Relsh Food and Wine
Bargara Strawberry Fair
Fraser Coast Show
They also bring the convenience of cash to the Hinterland Harvest Markets every Saturday and Fishermans Road Markets on Sundays.
Cris and Tania also manage a growing number of fixed ATMs up as far as Bundaberg, clients that want a local, personal flavour to their service.
With a drive to assist clients far and wide, a well known national brand, expert advice and support from a national network PLUS the reassurance that there's a constant supply of new ATMs and spare parts make Cris and Tania the first choice for ATM solutions for event organisers and business owners in the very northern areas of the Sunshine Coast all the way to Bundaberg.